Hey ya'll! This is a new kind of post for me. In the past few months I've made lots of amazing new friends and some of them are really great food, fashion, fitness and lifestyle bloggers. Here is one of my besties… the wonderful Caitlin. We initially met when she sat in front of me at my bar and we bonded over kale salads with poached eggs, whiskey cocktails, and our food obsession. Hope you enjoy reading about her!
Where did you grow up?
I was born in Florida and still call myself a Florida girl! My family moved a bit when I was little, but I mostly spent my childhood playing outside and swimming every single day. My dad's job moved us to Connecticut when I was 13, and I've lived in New England ever since (I even went to college at UConn).
How you'd get to Boston?
I moved to Boston a little over a year ago (in February 2014) for the job I still have now, at 90+ Cellars! I spent more than two years back in Connecticut at a job that wasn't for me (though I am very grateful for all I learned there). Once I got my MBA I searched hard for a new job, and ended up finding one via the network I'd built through, of all things, blogging.
Where do you work? What do you do now?
90+ Cellars is a wine company that buys excess finished wine from vineyards all over the world. We bottle that wine under our own label and sell it for less than what the vineyards sell it for – and we keep the vineyard a
secret. We're able to bring customers great wine for less, and vineyards are able to get rid of excess inventory without discounting under their brand name. Win-win!


I do all things marketing for 90+ Cellars, with a focus on digital (social media, our online store, etc). I also plan and execute a ton of fun events, so you'll find me around Boston pouring wine at soirees like Wine Riot and the Boston Wine Expo.
Tell us about your awesome blog!
Why did you start it? What does it mean to you now?
I wanted to start my blog soon after I graduated from college because I was working a job that didn't align with my interests in restaurants, cool cocktail, fitness, and nutrition (yes, those things can go together). I needed an
outlet for those interests – a place to talk about them! I also was going through recovery from an eating disorder, and the blogging community was very supportive. My blog eventually turned into a place where I could share roadblocks in my recovery and how I was overcoming them. I didn't intend it to go in that direction, but it did! So now it means so much more to me than just recipes, workouts, and restaurants.
Weekly workout schedule?
I'm definitely NOT a morning workout person so unless I have somewhere to be right after work, I go to the gym when I get out. I go to the Boston Sports Club and lately have been into yoga sculpt at Core Power Yoga as well. I try to get a workout in six days a week, even if it's just 20 minutes. But I LOVE that rest day each week! I try to switch up my workouts but I don't plan specifically what I'm going to do each day – I just go with what I'm feeling, be it spin, the stair master, weight lifting, or yoga sculpt.
Biggest athletic achievement / are you working towards anything now?
Definitely running my first half marathon last fall! I would like to train for another half, but I'm not a big fan of running when I'm not training, so I'm not currently running.
Favorite cocktail / bar / restaurant / snack food at a restaurant & why?
I cannot choose one favorite restaurant in Boston so I'm glad this question has some variety to it! Some of my favorite cocktails in Boston are the Ideal Manhattan at Citzen, the Prospect Park at Eastern Standard, and the Maker's Markham at Regal Beagle. I also am in love with the fried pickles at Citizen, Regal Beagle's seafood entrees, and Eastern Standard's calamari. I could always go for a big old biscuit from Island Creek Oyster Bar.
And I really loved City Landing down by the Aquarium – so bummed that closed!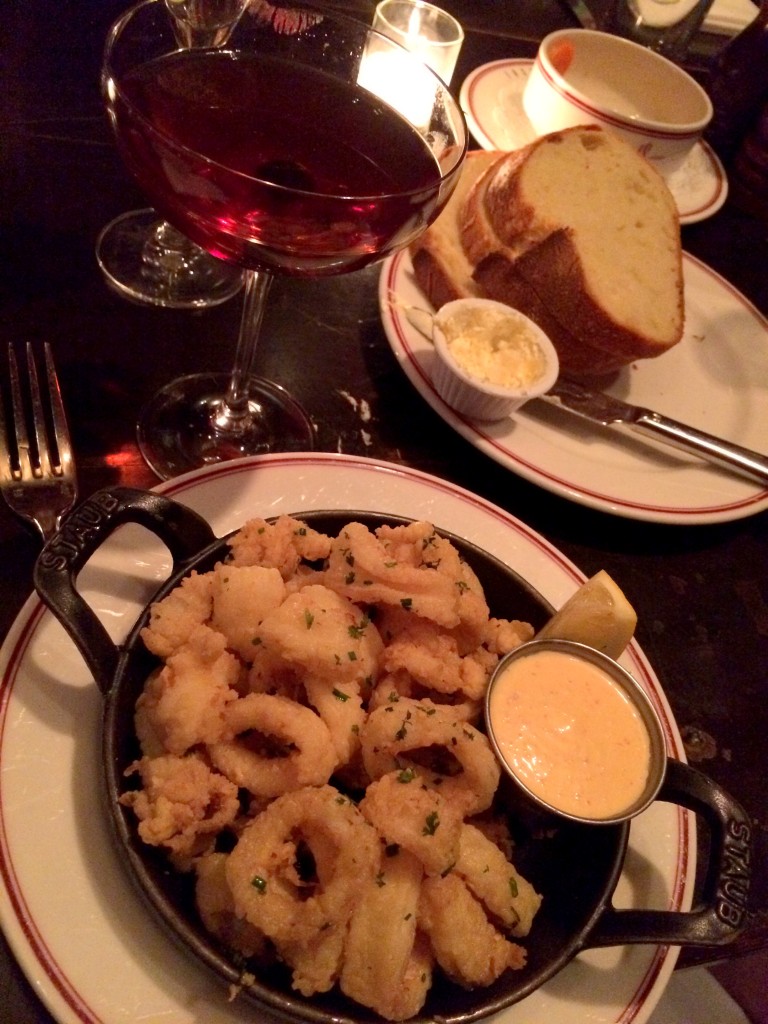 Go-to outfit?
Over the winter in Boston it was ALWAYS snowing so outfits that worked with boots were a must. I became obsessed with wearing my Target leather boots with black tights and a button-down tucked into a black skirt.
Throw a statement necklace on there and you've got a solid going-out outfit that's city winter friendly!
Quick, easy go-to recipe?
My favorite recipes are easy and come together by either throwing things on a pan into the oven, or mixing ingredients on a big pot on the stovetop. I like to make a bunch of food at once to have on hand all week for healthy meals. So I love chilis, roasted veggies, and casseroles. I follow recipes more often than create them, but here are some of my favorite recipes that I've modified or created:
Bacon, Egg, and Brussels Bowl:
Pop over to her blog, CaitPlusAte, for lots more info, recipes, make up help, fashion advice and more!